The city will be celebrating Arbor Day 2017 (April 29) with a tree sale open to all Shakopee residents. Shakopee Public Utilities and the Lower Minnesota River Watershed District are sponsoring the event, which decreases the cost to residents by more than 60 percent.
A limited number of trees are available. Residents are encouraged to pre-order online by clicking here (click on "Tree Sale" in the left menu).

Those who pre-order trees online before noon on April 21 will be entered into a drawing for a free native plant kit from the SWCD ($50 value).

Online sales close at noon April 28. Any trees not pre-ordered will be sold on a first-come first-served basis April 29. Cash and check only.
Trees are $30-$40 each, depending on species. See below for pricing.
Deciduous trees are bare root and container (6'-12' tall); conifers are in containers (3'-5' tall). Trees should be planted within 24 hours of pickup.
You must be a Shakopee resident to purchase a tree.
Limit two per household.
No warranty with purchase; no refunds.
Tree Pickup
Trees will be available for pickup from 1 to 4:30 p.m. Saturday, April 29 in the Public Works yard with entrance off Fourth Avenue (behind 500 Gorman St.). Trees not picked up at this time will be forfeit with no refunds.
For questions please contact Jacob Busiahn at jbusiahn@ShakopeeMN.gov or 952-233-9371.
Available Trees
LARGE DECIDUOUS TREES (40-60' tall)
Swamp white oak - $30
Low maintenance, yellow/gold fall color, leaves hang on tree until late winter, good in wet and dry areas.
Northern catalpa - $30
Large heart-shaped leaves, fragrant white flowers, interesting seed pods hang on through winter.
Thornless honeylocust - $30
Yellow fall color, seedless, deer resistant, drought tolerant.
Kentucky coffeetree 'Espresso' - $30

Seedless, architectural bark, fern-like leaves produce dappled shade, a unique tree.
Accolade elm 'Morton' - $30
Demonstrates very good resistance to Dutch elm disease (DED). Noted for its vigorous growth, glossy dark green foliage and good yellow fall color.
Tulip tree - $40

Grows to be a very large tree. The golden-yellow fall color, unique looking flower.
Northern pin oak (Hills oak) - $40
Excellent fall color. Easily grown in average, acidic, dry to medium moisture, well-drained soils in full sun.
Northern red oak - $40 - SOLD OUT
Great russet-red fall color, one of the faster growing oaks. Generally a durable and long-lived tree.
White oak - $40
A massive, long-lived stately tree with wide-spreading horizontal branches and wine-red fall color. Great for wildlife.
Ginkgo 'Autumn Gold' - $40 - SOLD OUT
Very pest-resistant tree, interesting, fan-shaped leaves that turn vivid yellow in fall. Low maintenance.
MEDIUM DECIDUOUS TREES (30-40' tall)
Buckeye 'Autumn Splendor' - $30
Outstanding burgundy fall color and showy spikes of creamy white flowers. While the fruit is not ornamentally significant, it is great for wildlife, especially squirrels.
River birch - $40
Attractive salmon-pink to reddish-brown bark exfoliates to reveal lighter inner bark. One of the most disease-free birches, resistant to birch borer.
SMALL DECIDUOUS TREES (15-20' tall-compatible with utility lines)
Magnolia 'Merrill' - $40
Fast growing tree with many strap-like petaled white flowers. Great alternative to crabapples.
Japanese tree lilac 'Ivory Silk' - $30

Flowers profusely and begins to flower at an early age-creamy white, fragrant, single flowers are arranged in dense, terminal clusters. Tolerant of many soil types.
LARGE CONIFERS (40-60' tall)
White pine - $40
Fine feathery needles, open canopy, fast growing and long lived, straight trunk, picturesque tree.
American larch (tamarack) - $40
Conifer that loses needles in fall, bright yellow fall color, grows on wet or dry sites, interesting look through the seasons.
Bald cypress - $40
Unique conifer for our area, loses needles in fall, russet-red fall color, hardy and tough tree adapting to most soils, does well in an area protected from the wind.
Swiss stone pine - $40 - SOLD OUT
A dense, narrow pyramidal evergreen tree that provides dark green color in the landscape. Easily grown in average, medium, well-drained soils in full sun.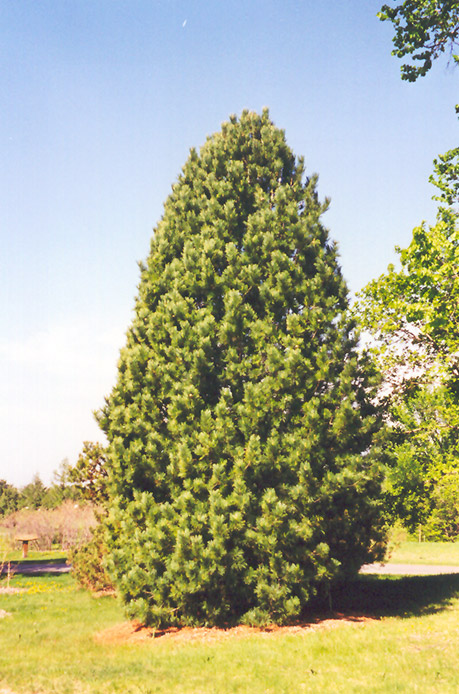 SMALL CONIFERS (20-40' tall)
Great for screening, dense foliage, attractive to birds and wildlife, tough tree, not as drought tolerant as eastern red cedar.
Great for screening, dense foliage, good wildlife value, tough tree, does well in dry windy sites with poor soils, needles attractive but prickly.
Planting Trees
If you plan to plant a tree in a City right-of-way or easement, you must secure a free Tree, Brush and Shrub Permit. It is recommended you apply for the permit two to three weeks in advance of the tree sale.